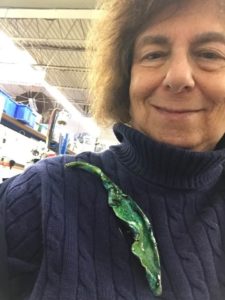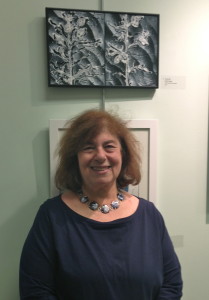 Enameling is often associated with jewelry or small decorative objects, but I use vitreous glass enamel as a painting medium.  My "canvas" is copper, steel, or fine silver.  I apply colors using transparent overlays over opaque grounds and build my surface from successive applications of glass with multiple kiln firings for each piece.  My current studio is part of a large maker space at the Artisan's Asylum in Somerville, MA where I have access to many shared shop tools in addition to my own enameling cubicle.  My inspiration is from places visited and imagined, and I work freely focusing on colors, textures and organic forms.
Formally educated in painting, I discovered vitreous enamel in a public high school teaching context in 1980, and my painting techniques using vitreous enamel are largely self -taught.  I continue to both paint in traditional watercolor and create jewelry.  Each medium has unique challenges of mastery, but my expressive style remains consistent.
My satisfying lengthy career as a public school visual arts educator has a significant impact on my own creative art.  I attribute some of my creative spontaneity to observing children at work.
I am a member of the international Enamelist Society and have academic degrees from Skidmore College and an MFA degree from Boston University. I have taken many workshops with masters of enameling, metalsmithing, and painting and continue to explore new possibilities.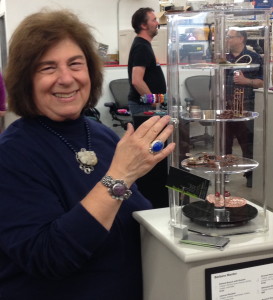 Education
Boston University School for the Arts, Master Of Fine Arts with a dual concentration in painting and art education
Skidmore College, Bachelor of Art in Fine Arts with a painting concentration.
Exhibitions
Tang Gallery Skidmore Alumni juried Art Exhibit
Arc Arts juried show Peabody, MA
Solo exhibit at Newton Free Library, Newton Centre, MA
Enamel Society Juried Show, 2015 Montserrat College of Art Gallery
Nave Gallery Somerville, MA juried show 2015
New Art Center, Newton, MA 2015
Imperial Jewelry Store, Somerville, MA 2015
Gallery 111, Concord, MA 2015
Artisans Asylum, Somerville, MA
Watertown, MA Public Library featured artist exhibit, on person show March 2014
City of Newton, MA, Mayor's Office.
Newton Cultural Center, Newton, MA
Group Show School of the Museum of Fine Arts, Boston, MA
Mario's Salon, Somerville, MA
Columbus Cultural Arts Center, Enamels Conference Exhibit
Newton, MA NewTV Cable television studio featured artist
Brookline Arts Center, Enamels: Facing the Future: juried exhibit
City of Newton: Open Studios
Arlington Center for the Arts:Art teachers' juried show
Canadian Clay and Glass Gallery, Waterloo, Ontario -exhibit for the Enamelist Society
Boston University Faculty/Alumni Art Exhibit, Fuller Gallery, Boston, MA
Newton, Massachusetts -City of Newton Featured Artists Exhibit
Gallery 333, Falmouth, MA
Somerville Museum, Somerville, Massachusetts
Schlesinger Library, Radcliffe College
Liberty Gallery Invitational Exhibit, Louisville, Kentucky
Carnegie Arts Center, Covington, Kentucky
Sarah Squeri Gallery, Cincinnati, Ohio
Concord, MA Art Association
Awards and Recognitions
Fund for the Arts, Newton, MA – arts lottery grant to create enameled wallpiece.
Skidmore College Art Fellowship Program (three weeks in the Summer).
National Gallery, Washington DC, art teachers' summer fellowship.